The Urban Moc for men is stylish, comfortable and quick to slip on and off, making it your go to shoe for the summer. Made using traditional methods, this traditional yet modern shoe will be the perfect addition to your wardrobe. Whether you're planning on staying home or spending the day in town, the Urban Moc for men, with its extra flexible rubber sole and its memory foam insole, will accompany you wherever you go. The Urban Moc is ideal for summer, spring and fall, inside and out.- Traditional Moccasin
-Genuine suede
-No lining
-No reinforcement
-Memory foam inter sole
-Rubber sole
-Suede laces
-Hand made double weaving
-Light and flexible
-Narrow to wide feet
-Total height: 6.5 cm
–
Handmade in Québec, Canada
The fit
Suede will stretch pick a size down or refer to our fit guide.
When you first try it on
Untie the laces, insert your foot and then adjust shoelaces to your personal comfort. You should feel a little bit tight at first. The leather will quickly adapt to your feet. We suggest you try your moccasins for 10 minutes at home before going outside to make sure they fit you well.
Care
The leather is treated at the factory before being shipped. This treatment will make your moccasins easy to clean with only a damp cloth. Try any care product on a small unapparent area before applying everywhere. For more information, visit our Care Guide.
Avis des clients
11/25/2021
Anonymous

Canada
mocassins bien fabriqués , confortable
très satisfait !
10/16/2021
Anonymous

Canada
Chaussures magnifiques et bien finies. Elles gardent bien les pieds au chaud et sont très confortables. Merci !
10/07/2021
Anonymous

Canada
Top confo!
Je les adore! Cuir souple et très confortable dès la première utilisation!
09/17/2021
Anonymous

Canada
Produits dérivés?
Bonjour, je suis très satisfaite de mes souliers! Par contre, j'ai été assez surprise du sac de rangement et du cordon promotionnel. J'ai acheté vos mocassins pour le look oui, mais surtout pour ce que votre marque représente: fait au Québec, produit en respect avec l'environnement et compagnie éco-consciente. Toutefois, ce deux produits promotionnels ne me paraissent pas en adéquation avec ces valeurs.
06/23/2021
Lyne F.

Canada
Mocassins urban moc rouge
Je les adores, trop beaux et super confo!!
06/22/2021
Michel V.

Canada
Mocassin
Hyper confortable
06/03/2021
Réjean B.

Canada
Le joli confort
C'est en plein ce que je voulais
05/21/2021
Cindy T.

Canada
Tellement confo
Jamais déçue lorsque j'achète chez vous merci
05/06/2021
Anonymous

Canada
Super produit
J'ai acheté ce mocassin d'homme pour ma fille de 25 ans qui a le pied très large et qui a beaucoup de difficulté à se chausser de façon élégante. J'ai pris un 7 d'homme alors qu'elle chausse du 9, 9,5 de femme. Le mocassin lui va parfaitement et lui fait un très beau pied. Super produit de qualité.
04/27/2021
Sylvie P.Lavoie

Canada
Amimoc
Ils sont super beau et je les adore et la livraison a été super arrivé bien avant la date promise
03/31/2021
Genevieve L.

Canada
Confort total!
Mes nouveaux meilleurs amis pour l'été, l'essayer c'est l'adopter!
03/30/2021
Gloria T.

Canada
03/29/2021
Anonymous

Canada
Mocassins urban
Très bien. Ils sont très confortables. Et merci pour les ptits cadeaux
03/23/2021
Anonymous

Canada
Confort et look
Emballée par la couleur estivale, j'avais tellement hâte de les porter que j'ai enfilé à l'intérieur une semelle de mouton et j'ai commencé à les porter à l'intérieur un peu comme des pantoufles. Avec le temps plus doux, je sors dehors pieds nus dans mes mocassins doublés de mouton. J'ai hâte d'enlever le mouton et de faire ma fraîche dehors sur la rue !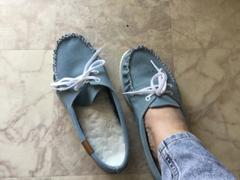 03/23/2021
Karine F.

Canada
Attention....surveiller votre mocassin urbain...car vous pourriez vous la faire voler!
J'aime beaucoup mes mocassins Urban. Étant donné que j'ai un pied large, j'ai pris ma grandeur réelle. La grandeur est parfaite pas trop grand mais je suis consciente que le matériel va s'étirer pour prendre la forme du pied. Il y a quelques mois, j'avais déjà acheté les mocassins Istah la taille plus petite, tel que recommander. J'ai du les mettre plusieurs jours avec des gros bas afin de permettre au matériel de s'étirer et de ne pas être déranger par la couture. Maintenant, je les adore aussi. Donc, si vous avez le pied large, haut et sensible au couture, respecter votre taille. Sinon, suivez la consigne de Amimoc. Mon préado, qui porte presque la même taille que moi, essai de mes voler. Mon petit de 8 ans trouve dommage aussi qu'il n'y en a pas a sa taille. Les deux ont aussi adoré leurs mocassins Istah qui peuvent être très bien unisexe selon la couleur. Donc...je dois garder mes mocassins à l'oeil ... pour ne pas me les faire voler! :)
Made in Canada
Martino shoes, boots and moccasins are carefully crafted in Canada by talented artisans. We are very proud of it and you can be too! Supporting a Canadian producer means doing your part for the local economy. Thank you.
More information
Free shipping and worry-free returns
At Martino, we want your experience to be simple and pleasant. That's why we offer free shipping in Canada and the United States with any purchase of $150 CAD or more before taxes.
Changed your mind? No problem! At Martino, returns are easy and free. Get all the details by visiting the Shipping and Returns page.
Care guide
Like our skin, leather needs care. The right product will help your shoes regain their original properties and keep them looking good. Our products are designed to last a long time. By taking care of them, you maximize their longevity and waterproofing.
See care guide
Find your size
Martino shoes, boots and moccasins are usually available in standard sizes. As a precaution, we suggest that you consult our size guide to find the size that fits you best.
More information
Fitting first
To make sure that you have the right size and that the product you choose fits you perfectly, we have some tips for you. Find out how to have an effective first fitting.
See adjustment
The Martino brand
Martino products , a Canadian manufacturer of high quality shoes and boots. All hand-assembled in Quebec City, Martino products are made of genuine leather and suede, warm and waterproof. Designed to last, they are a local and ecological choice.
More information