We are so proud that our moccasins are made in Canada that we want to tell it to the world. Our must-have moccasin previously known as the Colormoc now takes the name of Canada Mocc.
Carefully handcrafted in Quebec City, it is ideal for fall, spring and summer. It can be worn indoors or out thanks to its new thicker ultra flexible rubber sole. Made of genuine suede, it is supple and adjusts to the foot for the ultimate comfort.
This navy version will go perfectly with all your outfits, from the most classic to the most original. Designed to last, you will not want to take them off.
- Indoor and outdoor use
- 2-tone genuine suede
- No lining
- No reinforcement
- 5 mm memory foam insole
- Rubber outsole
- Nylon shoelaces
- Handmade double weaving
- Lightweight and flexible
- Narrow to wide feet
- Total height: 6.5 cm
-
Handmade in Quebec, Canada
Avis des clients
10/10/2021
Sylvie B.

Canada
C'est sur que je vais en racheter
Des vrai pantoufles, je ne m'en passerait pas, tellement confortable!!!
10/05/2021
Anonymous

Canada
Merveilleux
Super confortable !
10/05/2021
Sylvie P.

Canada
commande
J'aime mes mocassins, mais je ne comprends pas vos pointures, d'habitude je prends du 5 et vu que vous n'en aviez pas j'ai pris 6 et ils me font très bien, j'ai été chanceuse. Sur la même commande, j'en avais commandé à mon conjoint qui prend du 8, il en avait acheté directement à votre magasin de Québec, il y a quelques années, il les a aimé, et il avait pris du 8, là il a pris la même pointure et ils sont un peu grand.....
07/21/2021
Anonymous

Canada
Mocassin
Enchantée de mes mocassins!
07/19/2021
Anonymous

Canada
Confortable mais…
J'aime tellement ces mocassins que c'est ma deuxième paire. Toutefois je trouve que vis à vis les cordons le cuir du dessus et les coutures m'irritent le dessus du pied. Ça me gratte.
07/06/2021
Chantal D.

Canada
Merveilleux
Très belle expérience. C'est ma quatrième année de suite que je m'en achète. Cette année deux paires. Je viens de les recevoir et je suis toutes énervées. J'ai dû les retourner pour changer la grandeur et le service a été super. Les prochains sur ma liste les rouge. Merci Amimoc pour ce beau produit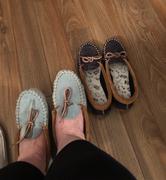 Made in Canada
Martino shoes, boots and moccasins are carefully crafted in Canada by talented artisans. We are very proud of it and you can be too! Supporting a Canadian producer means doing your part for the local economy. Thank you.
More information
Free shipping and worry-free returns
At Martino, we want your experience to be simple and pleasant. That's why we offer free shipping in Canada and the United States with any purchase of $150 CAD or more before taxes.
Changed your mind? No problem! At Martino, returns are easy and free. Get all the details by visiting the Shipping and Returns page.
Care guide
Like our skin, leather needs care. The right product will help your shoes regain their original properties and keep them looking good. Our products are designed to last a long time. By taking care of them, you maximize their longevity and waterproofing.
See care guide
Find your size
Martino shoes, boots and moccasins are usually available in standard sizes. As a precaution, we suggest that you consult our size guide to find the size that fits you best.
More information
Fitting first
To make sure that you have the right size and that the product you choose fits you perfectly, we have some tips for you. Find out how to have an effective first fitting.
See adjustment
The Martino brand
Martino products , a Canadian manufacturer of high quality shoes and boots. All hand-assembled in Quebec City, Martino products are made of genuine leather and suede, warm and waterproof. Designed to last, they are a local and ecological choice.
More information